"Les Productions le Moulin" presents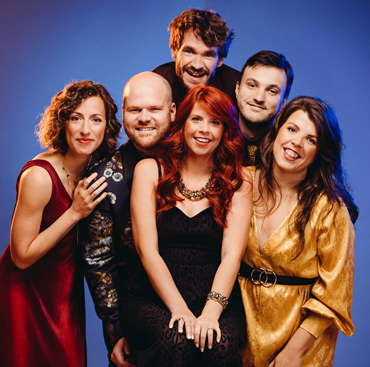 Jazz Affair
Sunday, May 19 at 7:30
Marc-Lescarbot (Université Sainte-Anne): Please note that the venue for this show had originally been announced as the Richelieu.
Tickets: Pay What You Will**
Jazz Affair unites six unique voices (three females ? three males) into a colourful and dynamic whole. Their repertoire is diverse and includes jazz standards as well as popular songs performed in exciting new renditions. Influenced by Manhattan Transfer and New York Voices, two flagship bands of American music, Jazz Affair stands out by its 100% a cappella sound, making it one of the rare professional vocal jazz bands in Canada.
Inspired by New York in the 50s and 60s, but by more recent music as well, the members of Jazz Affair sing well-known melodies by composers such as Charlie Parker, Stevie Wonder, Chick Corea, Van Morrison, Charles Aznavour, and Blondie. Jazz Affair?s rich and original arrangements will offer you beautiful acappella music that will take you beyond eras and borders.
A big thank you to our sponsors: Gérard Pothier, barrister & Atlantic Presenters Association
*Pay What You Will – Here's how it works:
– We recommend that you get a ticket to reserve your place at no charge. Tickets can be picked up at the usual locations: Ocean Blue Music (Yarmouth); Saulnierville Pharmacy; Weymouth Drugstore; La Shoppe Verte (Concession) or contact: pcm.comeau@ns.sympatico.ca; (902) 769-3288
– At the performance, we will provide an envelope and ask audience members to pay whatever amount they wish, cash or cheque (based on their own individual experience) following the performance
– You decide the price of your tickets! The objective of "Pay What You Will" (a ticketing approach that we and some other venues use once a year or so) is to increase access to our events and to encourage our patrons to take a chance on new and exciting performers.