Les Productions le Moulin présentent Coig (www.coig.ca)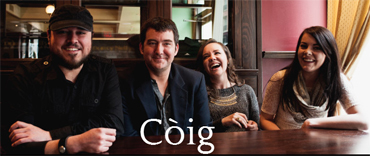 chez Evelina (Petit-Ruisseau/Little Brook)
le samedi 14 novembre/Saturday, November 14… 20h/8pm
Les billets (22$) seront en vente prochainement./Tickets will be available soon at: Evelina, Saulnierville Pharmacy, Weymouth Drugstore, Ocean Blue Music (Yarmouth)…25$ à la porte/at the door.
Cinq musiciens du Cap-Breton, chacun poursuivant une carrière solo, décident de s'unir pour former un groupe exceptionnel. Le groupe comprend deux Acadiens, Jason Roach de Chéticamp et un nouveau membre, Rémi Arsenault, de l'Île du Prince-Édouard.
Five musicians from Cape Breton, each one of them pursuing a solo career and having released a solo album, decide to join together to create an exceptionally good band. Please note that the promo photo on their Website and the poster shows four musicians but a fifth musician, namely guitarist Rémi Arsenault from P.E.I., will be joining them. Check out their amazing musicianship on these videos:
https://www.youtube.com/watch?v=9mDLZ5xbpQE
The following video is by Chrissy Crowley, one of the fiddlers in Coig, and her accompanying musicians are also members of the band.
https://www.youtube.com/watch?v=T96DdnK7cuU
Winner: 2014 Canadian Folk Music Award, Traditional Album of the Year
Winner: 2015 ECMAs, Roots/Traditional Group Recording of the Year
Winner: 2014 Music NS Award, Traditional/Roots Recording of the Year
Le Moulin Facebook: http://www.facebook.com/LesProductionsLeMoulin
Merci à nos commanditaires/Thanks to our sponsors: Patrimoine canadien, ArtsVest, Arts Nova Scotia, Weymouth Drugstore, la Municipalité de Clare, CIFA-FM.