les Productions le Moulin présentent Old Man Luedecke
le samedi 5 octobre à 19h30/Saturday, October 5 at 7:30
Marc-Lescarbot (Université Sainte-Anne)
$25 à l'avance/in advance; $30 à la porte/at the door; étudiants/students: $12; en vente/on sale: Saulnierville Pharmacy; Ocean Blue Music (Yarmouth); Weymouth Drug Store; La Shoppe Verte (Concession); Contact: paulemilecomeau@gmail.com (902) 769-3288
This will be a rare opportunity to see Old Man Luedecke with a band! He has been described as "the real thing" and "a modern day people's poet" and has recently toured Australia and the UK. His albums have won multiple ECMA awards and two back-to-back Juno Awards (2009 and 2011). One of them was nominated for a Polaris, Canada's most prestigious music award. Tim O'Brien, a multiple Grammy-winning multi-instrumentalist and one of the most respected American 'roots' musicians working today, has been Old Man Luedecke's collaborator on three of his albums.
Old Man Luedecke's compositions have been called 'songs of reassurance' and 'soul-warming songs'. Here are a few quotes from the press:
"He is clearly in a league of his own." -Toronto Star
"…a deep well of talent." -Penguin Eggs Magazine (Summer 2019)
"One of Canada's best loved and most intriguing roots singer-songwriters." -Sputnik Music
"An original, he is a musical singularity to be savoured and shared." -Vancouver Folk Festival
"…a deep well of talent." -Penguin Eggs Magazine (Summer 2019)
"he has an engaging and multi-hued global view" -Songlines: The Best Music from Around the World (UK magazine)
Some excerpts from reviews of his performance at a UK festival in August: "..a very endearing and self-deprecating humour…he seemed to really touch the audience…warm-hearted charm… Old Man Luedecke was an unexpected musical pleasure and I am sure everyone who saw his set left feeling the world a little better place."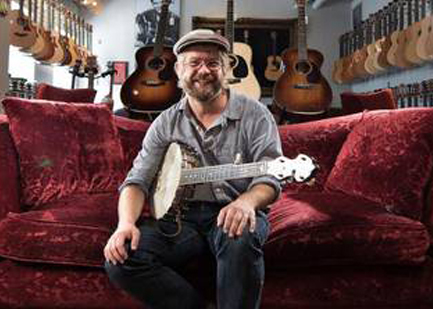 Rejoignez-nous sur Facebook./Follow us on Facebook: facebook.com/LesProductionsLeMoulin/
Merci à nos commanditaires/Thanks to our sponsors: Patrimoine canadien; Arts NS; la Municipalité de Clare; Comeau Sea Foods Ltd; BCD Fisheries Ltd.